Be Your Own
Coach

.
The data you need to step up your training
Crucial Metrics
With our innovative accelerometer technology, PoolMates accurately deliver counts for laps, distance, strokes, efficiency, and calories for a variety of pool lengths, open water, and styles.
Data Storage
Each PoolMate can automatically store the data for your swim so that you can analyze and track your progress after you dry off from the pool.
Computer Link
Want to chart your progress on a computer and get further insights? The Poolmate HR and PoolMate Live, using the download clip, allows you to download your data to your PC or Mac.
Any skill level
From the PoolMate2 with open water capability to the HR's heart rate monitor, there is a PoolMate that is perfect for your needs whether you're training for your first meet or an Olympic medalist.

For swimmers.
By Swimmers.
Swimovate was founded in the UK, when a triathlete and her husband realized that they spent more energy on counting laps and tracking progress than on their actual technique, and thus the Swimovate PoolMate was born. PoolMate handles the numbers, so you can focus on swimming.
Get it Now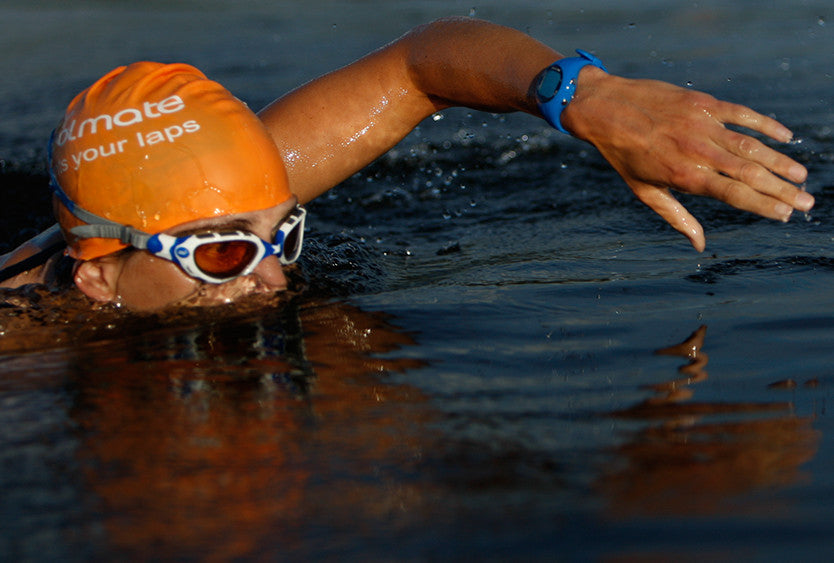 A PoolMate with open water capabilities.
The newest iteration of the original PoolMate is also the only one with open water and endless pool capabilities, along with all of the standard metrics that are offered with every PoolMate and the ability to store 50 swim sessions for recall. The new design also features are larger, more durable crystal glass face and oversized display letters for easy viewing.
Counts: laps, strokes, distance, speed, efficiency, duration, sets, rest time, and calories
Colors: Black, grey, blue, and purple
Get it Now! $95.00
A POOLMATE WITH TOOLS FOR SERIOUS TRAINING
The PoolMate Live has an additional suite of features for the more demanding regimen. It features a vibrating alarm that can be set for a certain number of laps, distance, or time interval, which is the best tool to keep track of how you're doing mid swim. It also has a 2 year battery life, with a specially designed back plate that lets you change the battery yourself. The optional download clip (not included) lets you download your swim data to a PC or Mac for further analysis via our swim software.
Colors: Black
Counts: laps, strokes, distance, speed, efficiency, duration, sets, rest time, and calories
Options: Download Clip
$115.00 Get it Now!
Heart rate readings for the most advanced swim analytics.
The PoolMate HR is the premiere watch on the PoolMate line. It features an underwater heart rate strap that records your heart rate along with the standard data measured by PoolMates. It also features an included link cable for uploading swim data to the computer, a settable vibrating alarm, and an oversized display lettering for clear reading by the pool.
Counts: Heart rate, laps, strokes, distance, speed, efficiency, duration, sets, rest time, and calories
Colors: Black
Get it Now! $240.00
TESTIMONIALS
WHAT SWIMMERS SAY
After several months of using my new swim watch, I'm thoroughly pleased with it. It works just as well as my first PoolMate when it comes to counting laps (I can't remember a workout where it missed a lap), but the vibrating feature has been a big plus in my training. I set the watch to vibrate every 16 laps, and now I can focus even more on my technique and pace. Not counting laps is great, but the Live takes it a step further and allows me to continue swimming and not have to take a break to check my distance or time.
Fit for Life
Amazon Reviewer
I am swimming 10,000-14,000 yards 4 days per week and was very tired of counting laps. I got this watch at the end of October and was a little skeptical but I can tell you it does EXACTLY what it says it will do. I don't have to count laps anymore, the only button pushing is at the start and end of sets, not laps, it keeps track of total laps, calories, speed, stroke efficiency, total yards, yards per set, strokes per lap, it truly is amazing what the watch does.
Larry H.
Amazon Reviewer
I'm not a competitive swimmer or anything - I just want to improve my times and I swim regularly. Having the watch confirm that this is lap 30 and not 28 or 32(as I would like it to be) is a real help. Then being able to view the individual lap statistics on the PC just caps it all off.
S.M. Pratt
Amazon Reviewer
Have More Questions?
Need more assistance? Don't hesitate to give us a call!
(612)361-3161
Swimovate FAQ
Check out our knowledge base of common questions about PoolMate Watches
Visit FAQ